Phoenix Trinity 2011: 9mm
This one has been simmering on my bench for several months now as other projects came and went. I won a certificate for a free Phoenix Trinity frame at a USPSA match a while back, and decided to do it in 9mm since it's the most under-represented of my 2011 collection.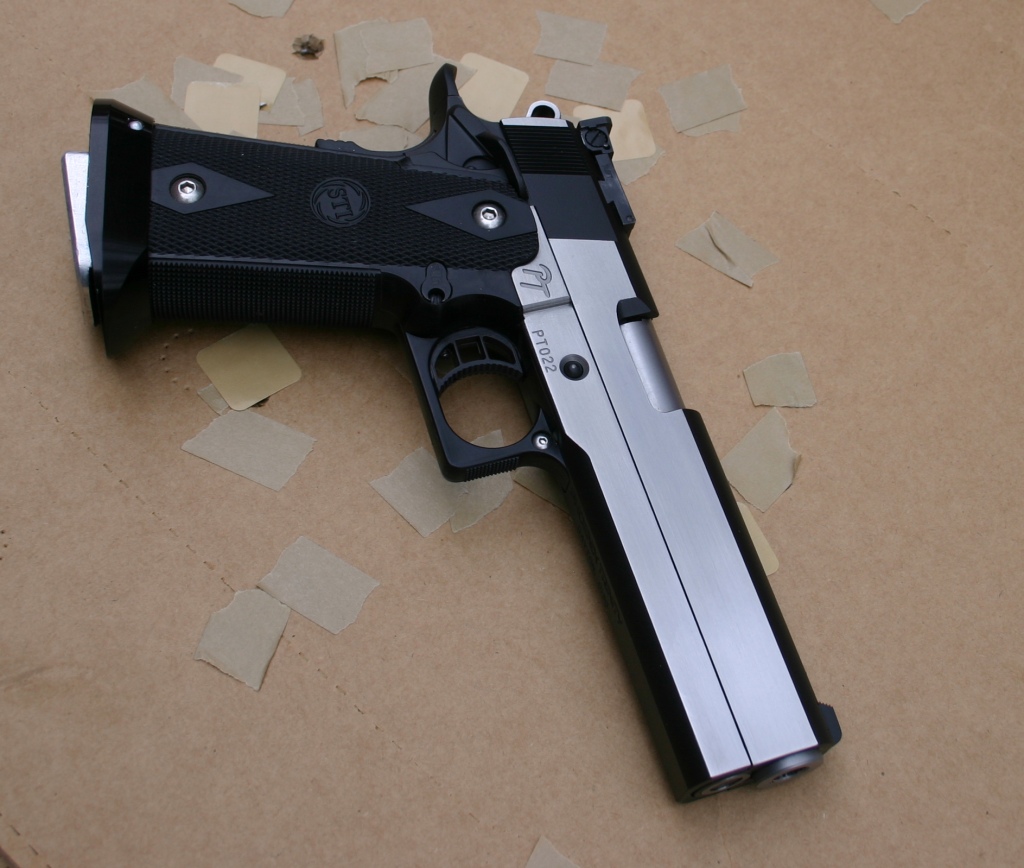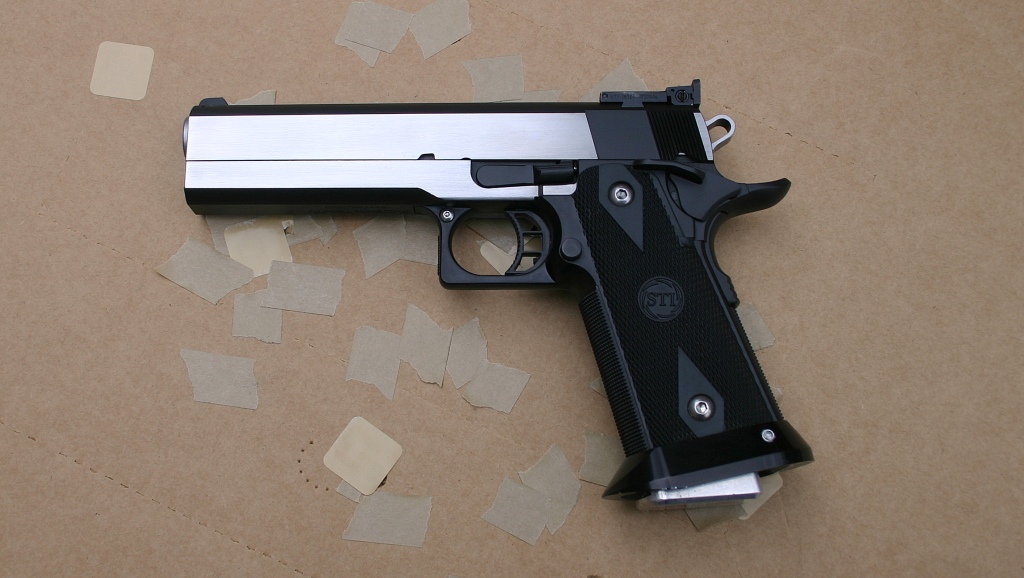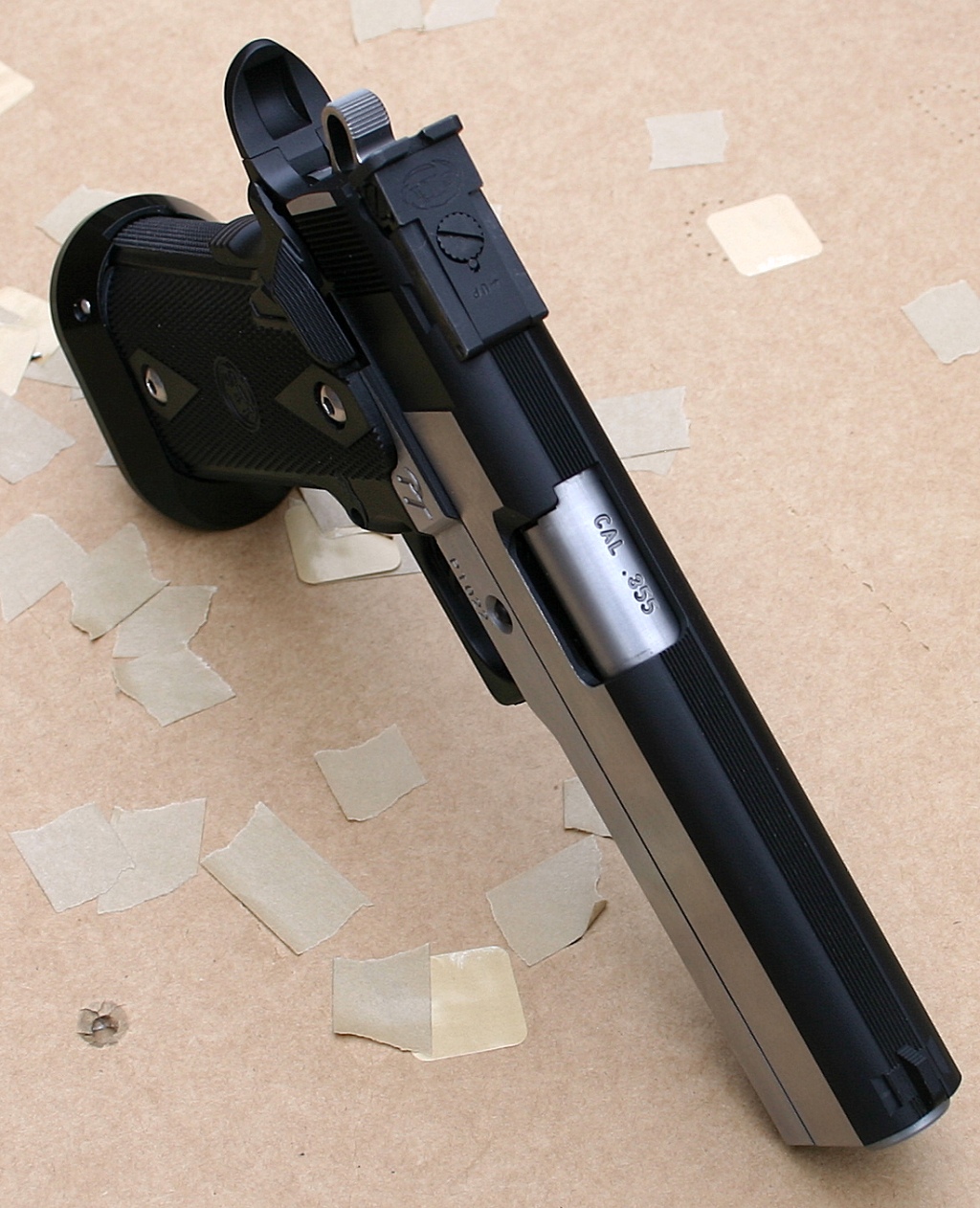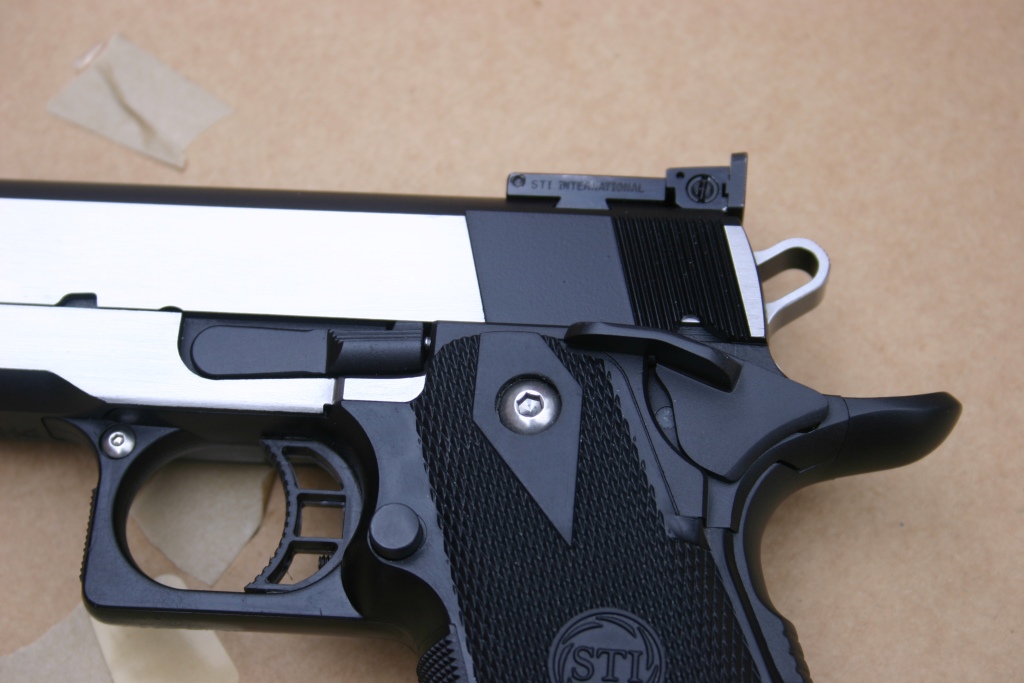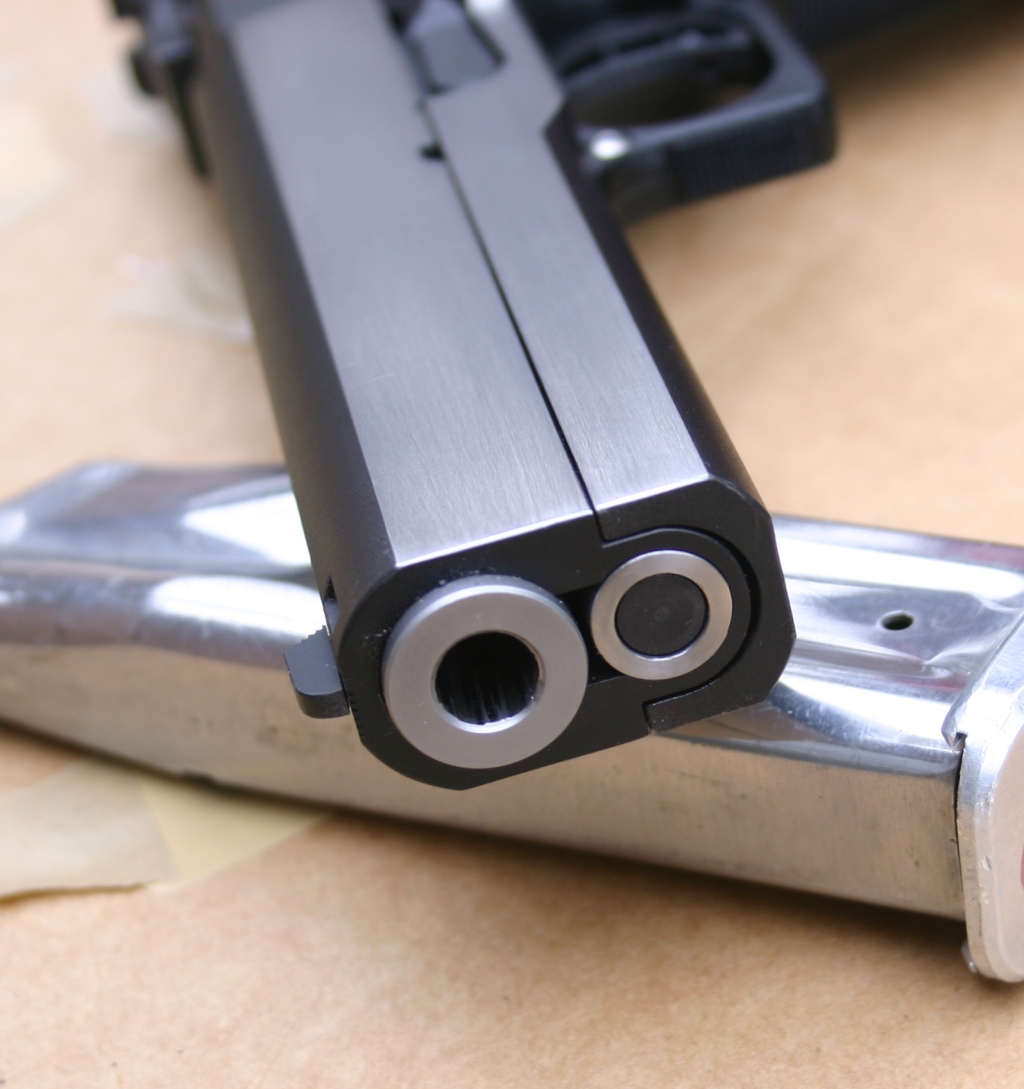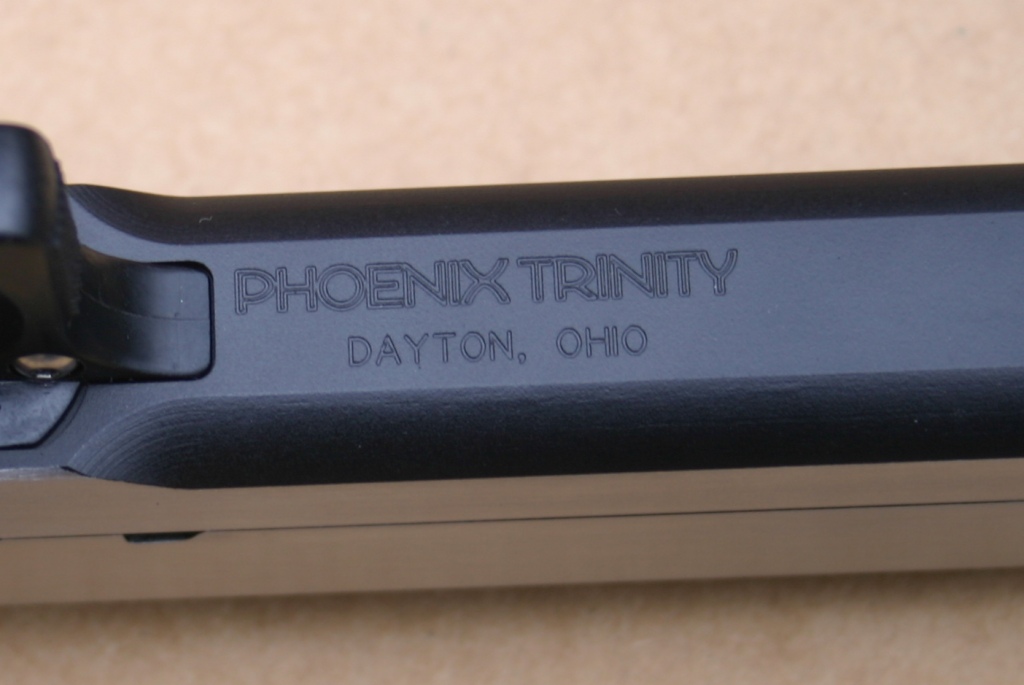 Parts list:
Phoenix Trinity frame http://www.ptrinity.com/firearms
STI unique slide, bare http://www.stiguns.com
STI bull barrel, 9mm
STI magwell
C&S hammer & pin set
EGW hard sear, firing pin stop, barrel link http://www.egw-guns.com
Kimber / BUL ball head disconnector
Colt sear spring
Brown thumb & grip safety
STI rear adjustable, black front
STI one piece guide rod, reverse plug
Wilson slide stop
Cerakote finish
I performed all the work. This is the order I went about it:
Cut the slide to fit frame
Fit barrel to slide, and then cut lower lugs to fit to slide stop
Ream barrel to proper depth (it was short-chambered)
Fit STI grip to frame
Fit grip and thumb safety, reprofiling as necessary
Fit slide stop and extractor
Cut slide for SVI-style grasping serrations (20 lpi and panel cut)
Flat top slide and cut 30 lpi serrations
Cut dovetail for front sight
Cut front sight to .100" wide
Drill and tap hole for rear sight elevation screw
Fit fire control parts (these didn't need much work)
Soften all sharp edges
Abrasive blast slide, frame and parts
Polish slide and frame flats to 240 grit
Cerakote slide, frame and parts
Glass bead blast barrel
Parts out of the box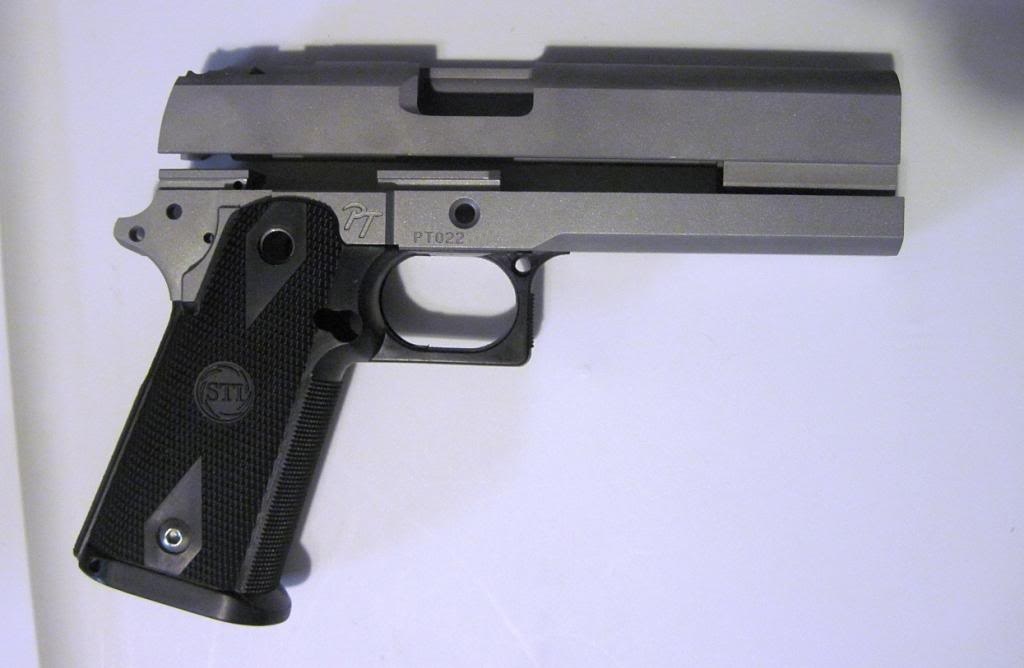 Fitting the barrel to the slide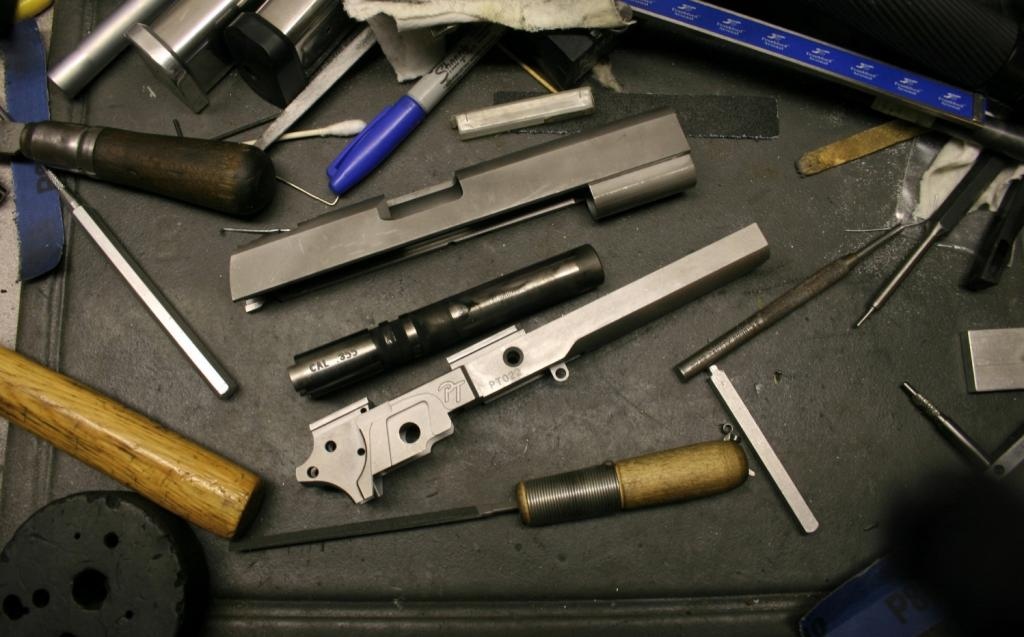 Cutting the lower lugs

Assembled with temporary safeties & slide stop

Cutting the top serrations (EGW carbide 60 degree slitting saw)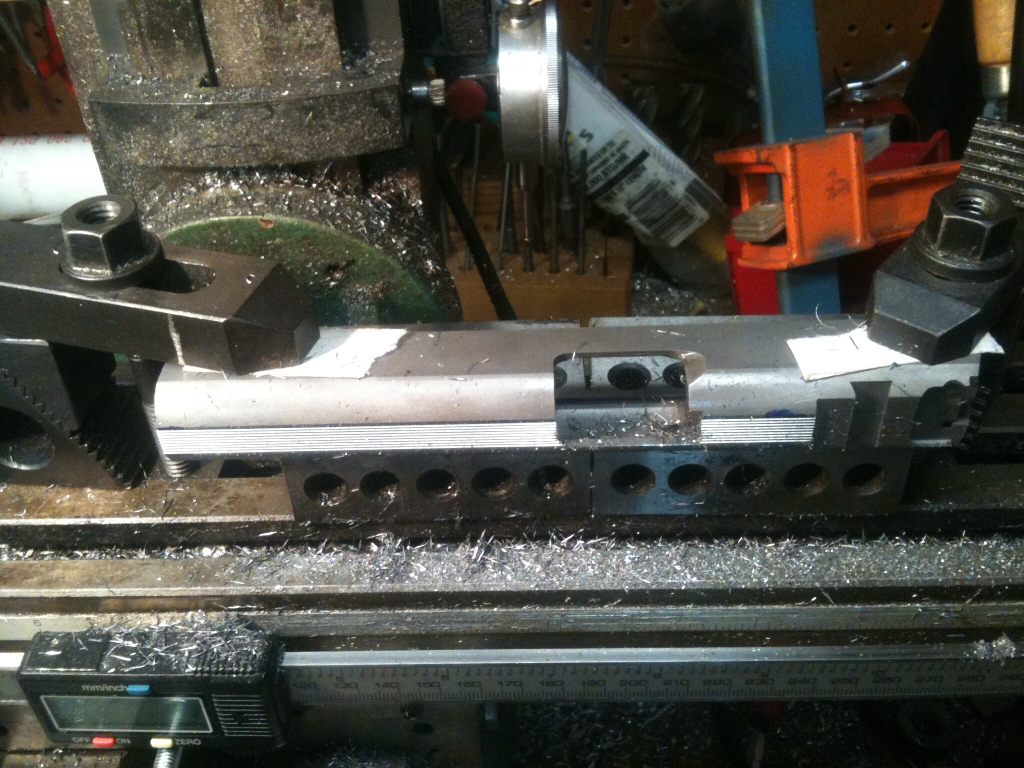 Cutting the grasping serrations (same EGW cutter)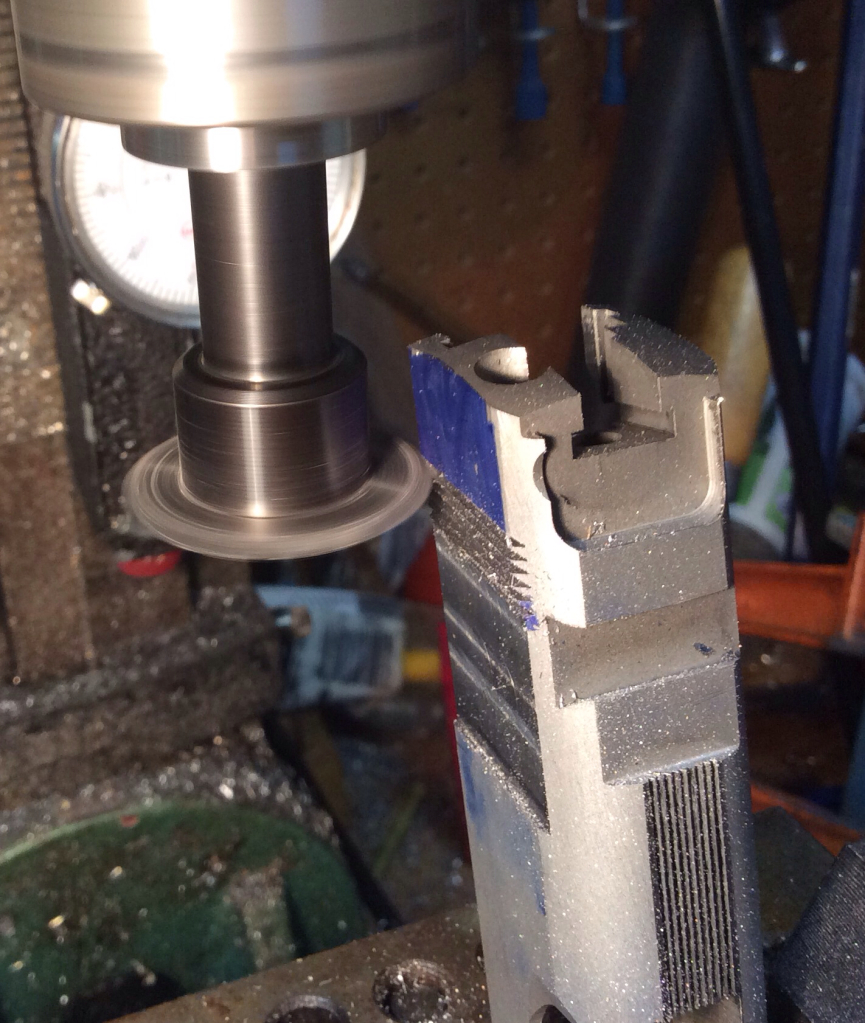 Pretty close to the SVI

After function testing at the range

Notes about the Phoenix Trinity frame:
the 3 holes to attach the grip were misaligned a bit higher than they are on STI frames. It was easy enough to use round files to bring them down enough to match up with the grip holes and insert the screws.

The hammer and sear pin holes were tight enough that they needed opening up a bit as well. The grip safety tangs were a bit longer than STI traditionally makes them (pre-cut for a .250 grip safety radius). This was actually OK since I prefer a tighter looking grip safety fit.

Other than that, it matched up very well with the STI slide. For the price ($200 to $300 depending on features), I think it's a good product. If they correct the dimensional errors, it will be a great product. STI charges $450 for their frame, but they do include a $100 grip frame, $30 trigger, mainspring housing, and mag catch. Still, it's nice for those of us who probably already have those parts lying around anyway (and in fact, I actually did. All I lacked was the MSH) to be able to build up a new gun without having to buy all of it.

I debated pinning the grip safety, but I figured this would see some action in 3-gun and a functional grip safety is probably a good idea there.

I've shot it briefly, enough to check function and accuracy. I have about 80 rounds through it, prior to final finishing. It seems to be quite accurate, which I'd expect since the frame and barrel are fit tighter than Dick's hatband. In fact, after Cerakoting, I had to remove the finish from some rail surfaces and the slide stop pin in order to get things moving smoothly again. I haven't benched it or put it in a Ransom rest, but freehand I was putting them into one hole on a USPSA target head at 15 yards, with no flyers I hadn't called. My 135gr lead handloads aren't the most accurate, so I may have to break out factory ammo to really put it through its paces.

When the "good weather" and "free time" curves next intersect, I'll do some more serious accuracy shooting. Thanks for looking!
---