Essex .38 Super Government
This one was acquired locally. As purchased, it consisted of a Colt .38 Super Commander top end on an Essex Government frame. I'm not a big fan of Commanders, and when they are riding on an unmodified Government sized frame, I like them even less. Since an Essex frame deserves no better, I decided to buy an Essex 5" slide and sell the Colt top end (which was in excellent shape).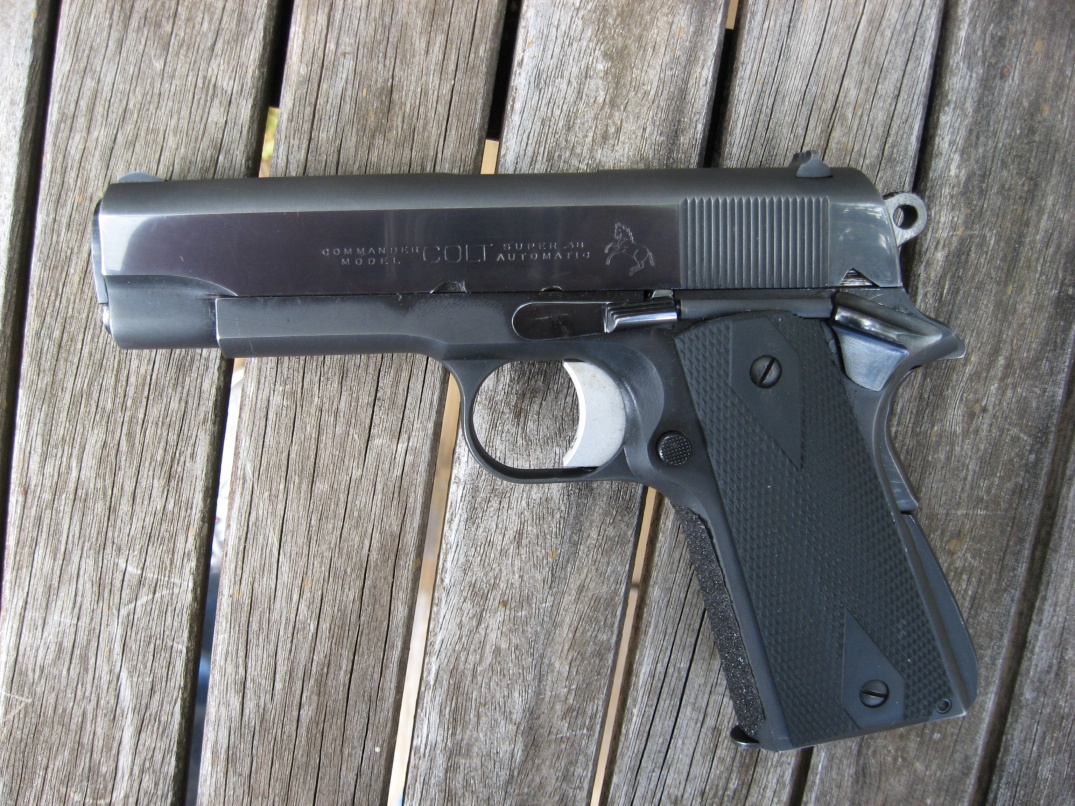 The theme for this build was "budget custom". I didn't see much point in putting ultra-premium parts in an Essex build. But extra labor is free, and the modest cost of the parts meant a bit of experimentation couldn't hurt much.
Parts list:
Clark ramped .38 Super 6" barrel & bushing

Kensight Bo-mar clone, Novak front

Nighthawk sear

Wilson value line hammer

Ed Brown 70 series grip safety

Caspian extractor
Basics of this build:

Ramp cut in frame and fit Clark ramped barrel & bushing

Cut 6" barrel down to 5" and crown

High cut and checker frontstrap at 30 lines per inch

Magwell bevel

Fit Brown beavertail

Slide: recut stirrup cuts with ball endmill, slide edge bevel, scallop front of ejection port to allow loaded round ejection

Install new Wilson hammer and Nighthawk sear, set to 4 pound trigger pull

Face bushing off on lathe

Break all sharp edges

Abrasive blast with 100 grit al-ox and finish in Norrell's semi-gloss black moly resin


In keeping with my past experiences, the quality of the Essex slide and frame left something to be desired. I had planned to cut a French border on the slide, but it wouldn't have looked right because the front portion of the slide flats aren't parallel with the rest of the slide. I could have recut the flats but it would have involved unpleasant compromises. The slide breechface featured a lot of casting marks that needed polishing out, and the sight cuts in the slide were not flat-bottomed. Like other Essex slides I've seen and worked with, this one had a definite purple tinge to the bluing, which meant it probably wouldn't match up with the frame if I reblued it. That meant a paint finish.

The left side of the frame was slightly thicker than the right side... not really a problem until I was ready to fit the beavertail, which didn't line up just right. There are still casting artifacts visible on the finished product, but fortunately I never encountered any voids in the metal when I was cutting the frontstrap. The frame to slide fit was a bit loose, but not any worse than any current production 1911, and better than some.

I haven't done formal accuracy testing, but I've had it out a couple of times and had no problems keeping all my shots in the head of a USPSA target at 20 yards.